April 8, 2004 -- McHenry, Illinois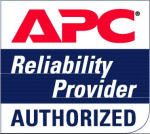 Wizard Systems, Inc. has been promoted to Authorized level in the APC Reliability Provider partner program.
APC Authorized Partners focus on providing a wide range of IT solutions as well as network installation and integration. Authorized Partners take part in ongoing APC training to maintain their broad knowledge of APC's solutions portfolio. Look for Wizard Systems, Inc., an APC Authorized Partner, to assist you with InfraStruXure™ Type A solutions as well as SurgeArrest®, Mobile Availability and Security Products, Back-UPS®, Smart-UPS®, Smart-UPS® RM, Symmetra®, Symmetra® RM, Power Distribution, NetShelter® Rack Systems, Environmental Monitoring and Rack-Based Cooling, Management, and Service solutions.