Backup Power
More sensitive equipment and equipment that cannot or should not be subject the power sags or outages should be protected with an backup or uninterruptible power supply (UPS).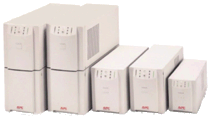 A backup power supply is able to switch to battery power nearly instantaneously to protect your equipment and data from a potentially devastating loss of power. Higher-end units can also even out small changes in voltage ensuring that the battery is available for true emergencies and prolonging the life of your equipment.
A UPS is running from its' battery full-time. These products are used when even the slightest delay in switching time is unacceptable. They also protect your equipment from all other fluctuations in power quality.
Try our UPS Selector to find the correct product for your application.
After you find your product, call 815-385-9778 or E-mail for pricing and availability.
---